Exclusive: British artist launches Walled Off hotel in hope of bringing Israeli tourists and dialogue to West Bank city
The Walled Off hotel may sound utilitarian, even bleak. Its owner says it has the worst view of any hotel in the world, while its 10 rooms get just 25 minutes of direct sunlight a day.
But, nestled against the controversial barrier wall separating Israel from the Palestinian territories, the West Banks answer to the Waldorf offers travellers something more elusive than any luxury destination.
The lodging in Bethlehem is a hotel, museum, protest and gallery all in one, packed with the artworks and angry brilliance of its owner, British street artist Banksy.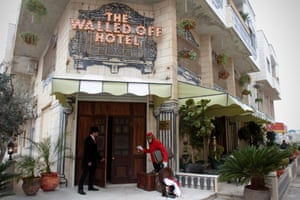 Read more: https://www.theguardian.com/world/2017/mar/03/banksy-opens-bethlehem-barrier-wall-hotel